Day Six – I'm f*#king grumpy tonight.  I was tired wrapping up my work day, then was in the kitchen for over three hours tonight doing prep, some cooking and a shi*tload of of dishes. At some point, I couldn't find the onion powder, I realized I was out of red-wine vinegar, miscalculated the ketchup recipe timing and will be up until 11:00 to wrap it up and I just lost my "detox zen" from the last week. Roxy was subject to some fairly colorful language out of the kitchen tonight, although admittedly she's used to it.
I don't think my frustration is completely without merit.  This meal plan is definitely a lot of cooking – or at least more than I'm used to.  But then I sat down to watch "The Wall" while I did my daily post, and watching the people win I started bawling (it was an emotional end in my defense) – so I'm thinking I may be a little emotionally raw from this detox.  I don't normally cry at game shows.
I'm currently doing the 21 Day Sugar Detox, following the new daily guide and meal plans and blogging about the experience.  Most of my blog content is based on the daily logs from the new guide.  I'm also discussing what I modified and why (any kind of meal plan can't be "one-size fits all") as well as tracking my food and macros.  I'm not a calorie counter, but I do think it's important for me to have an awareness of how much and what percentages I'm eating so it's easier for me to make changes or adjustments if I start to see a loss of energy, weight-gain, etc.
Daily Meal Plan
Breakfast:  Bacon, Brussels and Asparagus Frittata.  No goat cheese for me since I'm doing Level 3.  I stuck with a half portion again – that seems to be right for me.   It's bacon, eggs and other stuff.  Really can't go wrong there.
Lunch: Turkey BLTs with Avocado on lettuce leaves (two each) was on the plan.  I did some modifications today for a few reasons.  One, all the turkey I found had either honey or carrageenan in it (I'm a little surprised with Applegate) so I bought their grass-fed roast beef instead.  Two, I can never make it work with avocados. They either aren't rip or I let them spoil, so I got Wholly Guacamole individual cups instead.  Third, I put the bacon I'd prepped for lunch today in the frittata yesterday, so I had none.  However, my roast beef, tomato, guacamole "sandwiches" were delish. I threw on a little dab of Primal Kitchen Chipotle Mayo for good measure.  Ok, is is just me, or does my sandwich pic look a little Georgia O'Keeffe-ish?
Snack: Frozen Co-Co Monkey Bites was on the plan but I opted for some of my home made lamb bone broth and the Smoky Nut mix.  It's too cold for those bites!
Dinner:   Cheesesteak Stuffed Potatoes.  I made a few modifications to this meal. I'd made mashed, roasted cauliflower with the intention of making the meal with half a small sweet potato and then a serving of the cauliflower.  I was a little skeptical about the Cashew "Cheese" sauce but it actually all came together pretty well.  I didn't LOVE my cauliflower recipe (it was something I made up) and I think this would have been much better with a regular potato.  I may try that with the leftovers.
Fruit: None – although I did have my lime-coco water today.
How I'm Feeling
Physically, I was really tired this morning but that may have been because I ended up staying late to watch the Golden Globes.  How amazing was Oprah's speech, btw?  I want them to stop playing it because it keeps choking me up.  Now that, I don't attribute to the detox – that's a NORMAL response in my book.  Back to the detox – I'm still hitting a wall in the afternoon.  I think I need to be better about having my fruit during the day.  Perhaps part of lunch or as a snack.
Mentally/emotionally – already talked about that.  I'm a little raw today – prone to frustration and a little emotional.  I'm already feeling better, though.  It passes eventually.
Prep and Cooking
Today was a "Cooking Day."  I did my grocery shopping and made ketchup and the Smoky Nut mix, as per the meal plan.  I also had to cook up some chicken and marinate onions for the tangy salad, cook up a batch up caramelized onions for the BBQ sauce, which wasn't listed in the book (or I missed it somewhere.) Additionally, I had to cook chicken and pepper/onion mix for dinner and I made the ranch dressing a day early because I need it for lunch tomorrow.
I'm definitely a little "over" all the kitchen time.  Tomorrow has a fair amount of prep/make ahead.  *sigh*
Exercise
Running:  4.1 mile @ 9:57 pace
Today's workout intensity was easy.  I did a run with an errand – ran to the hardware store and took the long way home to make it 4 miles @ lunchtime.  I was then continually hungry for the rest of the day and ended up skipping my strength work and core because I felt so run down.  FRUIT!  Must start eating in the afternoons!!
Nutritional Information and Macros
Closing out Day 6
The ketchup isn't done yet.   And I'm like: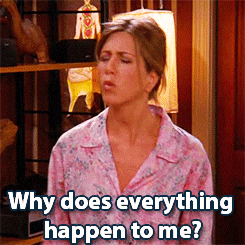 Tomorrow will be better.